An offbeat exploration of Delhi
I possess this uncanny desire for trying the most offbeat things. Which is why when a couple of my friends were planning to go for bowling and subsequently eating at a cafe serving oriental cuisine in West Delhi, I vehemently opposed. Having spent the last four years doing regular stuff like eating at cafes, watching movies, attending comedy shows and concerts, I wanted to experience something entirely different.
Now when such a drastically novel idea is proposed there arise three different opinions – reluctance, support and "I don't care, I'll do whatever you decide". This scenario was no different. But after a little research, deliberation and convincing we locked in our plan for the next day.
We started around noon on a sunny January day to board a metro to the Lutyens' Delhi. I have grown up admiring this part of Delhi for the sheer amount of history contained in its roads and buildings and every time I visit it, I am mesmerised by the grandeur of the monuments and the government offices, the lush greenery and the impeccable cleanliness.
Our first stop for the day was Andhra Bhawan. Having read rave reviews of the food that they serve, the foodie in me was super excited to try the delicacies. The place was overly crowded and buzzing with activity. We took our tokens and waited for our turn. Now the concept of independent tables doesn't exist there because of the huge number of people flowing in and out of the place. So the best you can get is a given number of seats on a large table where there will be multiple families or groups of friends sitting together. We made our way into the dining area upon being called and the thing that struck me the most was how immaculately the place was being managed despite the commotion created by the huge number of diners. The waiters were extremely gracious and their hospitality won our hearts.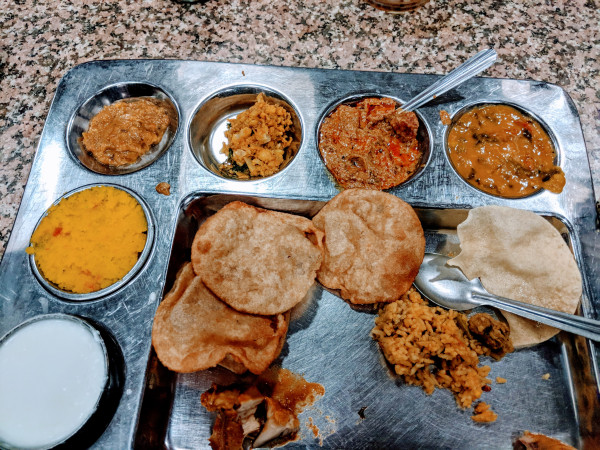 The Andhra Bhawan Thali
The authentic Andhra food was a delight for the palate. They serve three subzis, rasam, curd, halwa with puris and rice. I love indigenous tastes and I was impressed by the simple yet elegant preparations. Also, it is a buffet so you can have unlimited servings at a meagre cost of around 130 rupees per person.
After having a wholesome meal we were casually strolling on the streets of Janpath enjoying the winter sun when I asked my friends whether they'll mind accompanying me to my father's head office 'The National Archives of India' which was at about ten minutes of walking distance from where we were. Although it wasn't a part of our plan, they happily obliged.
When we reached the place, we got to know that there is an exhibition going on in the premises on the accession of Kashmir to India and we decided to spend some time there.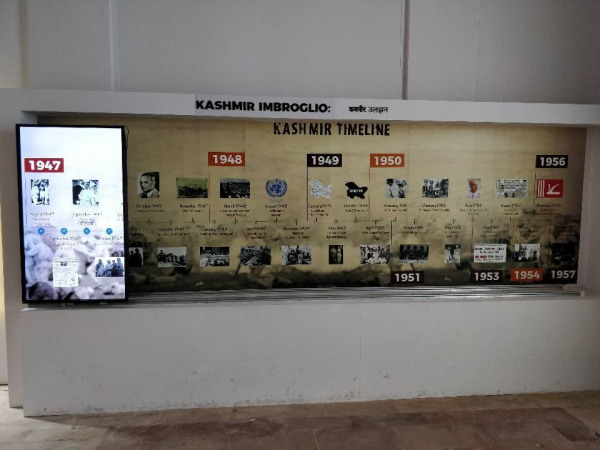 A part of the exhibition
It was a very well presented exhibition where various interesting records pertaining to Kashmir and the developments surrounding its accession were displayed using different forms of media. We left the place enriched and I felt that it did its bit to spark a little curiosity in my history-averse friends as well.
After this tryst with history, we proceeded to the Bangla Sahib Gurudwara for a tryst with spirituality. Illuminated by the rays of the setting sun, the place had a sense of calmness about itself. The interiors were filled with intricate designs on gold – the architecture was awe-inspiring.
We offered our prayers, did a parikrama of the holy water and then relished the ghee-laden halwa (prasad).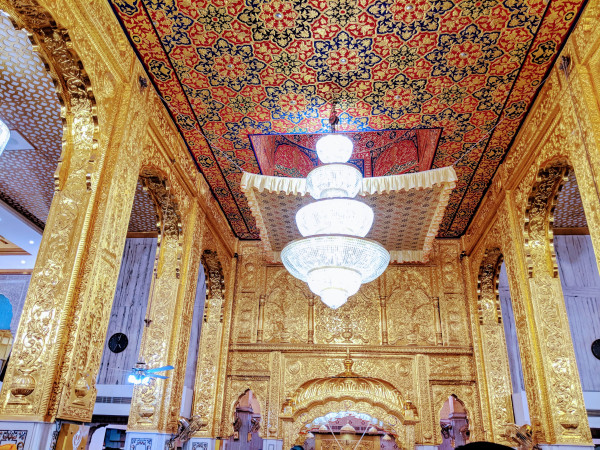 Exquisite Interiors
Our next stop for the evening was the Indian Habitat Centre where we were scheduled to watch a live play titled "Short Circuit" presented by Atelier Repertory Company. None of us had previously watched theatre so everyone was quite upbeat about it. For me personally, it was a long drawn desire to witness the same and although I enjoyed the experience, I felt that the story could have been a tad better. Watching theatre is something that I'll recommend to everyone for there is a degree of realness and authenticity there which the movies or TV shows can't provide. There are always multiple shows running in Delhi at the Indian Habitat Centre or the Siri Fort Auditorium and other such places. Tickets are available on Bookmyshow.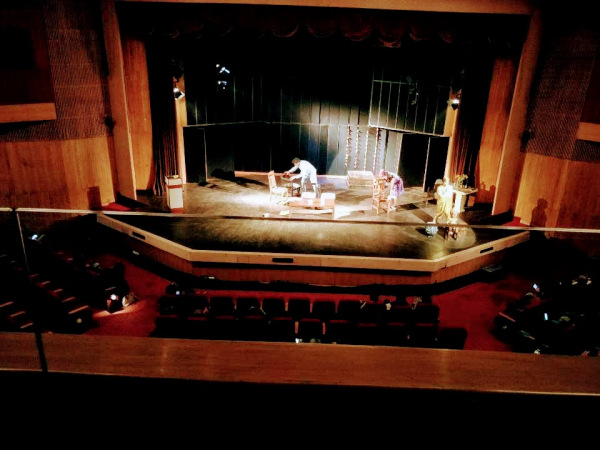 The Stage
To wrap up the day we headed to the Maharashtra Sadan which serves Marathi cuisine. Since all the travelling and exploring had left us tired, we treated ourselves to a sumptuous meal comprising of Kolhapuri Chicken, Bharali Wangi and Sev Tamatar Bhaji. The preparations were delicious and the ambience of the place was also decent. The crowd was manageable. Although it is not as popular as the Andhra Bhawan, it is still worth trying.
Travelling for me is about discovering the various facets of a place, assimilating its idiosyncrasies and of having an enriching experience. And Delhi is so eclectic in terms of what it beholds that perhaps one can never truly stop marvelling at what is still left to explore. This was one of the most happening and memorable days of my college life and it is disheartening that we couldn't do something like this again. But the most satisfying part was that no one regretted choosing this offbeat exploration over bowling and eating at the cafe.
---