On Saturday, mocktails and music
Saturday is the best day of the week. Period.
There's excitement that the weekend is finally here, there's an attached feeling of relaxation, but most importantly, Saturday is a beacon of hope for there's still Sunday to come.
Saturday is the best day of the week until you don't have it as a working day. For those who do, it is a different story.
I love my work but I don't love working on Saturdays. This concept is probably the most counterproductive thing ever. The motive is to get more done but that rarely happens. When people begrudgingly drag themselves to work on a pleasant Saturday morning through commotion-free roads and with the realisation that the rest of Gurgaon's corporate folks are enjoying their time, they end up with resentment. This, in turn, makes getting through the extremely slow day at work a task because the shared resentment culminates into colleagues empathising and feeling sorry for each other in place of getting some actual work done.
But last Saturday was different. No, I didn't magically start liking working on Saturdays, it was what we did to do away with the blues that really made it stand out. We headed to a rooftop brewery cum cafe called Nowhere.
---
Although there is nothing special about going to chill at a brewery on a weekend, it is not my favourite idea of fun. Firstly because I don't drink and hence their value proposition is kind of moot to me and secondly because they're just too loud. Probably some combination of alcohol and loud music enables people to relax, but I come out of these places more perturbed than merry.
The sad part with most of these places is that their non-alcoholic drinks menu exists just because someone perfunctorily put the items there so that the teetotalers don't feel bad about their existence. And since the focus is so extensively on alcohol, the (ordinary) food options available are primarily those that supplement the drinking.
The situation is not ubiquitously bad though. I have come across places that serve a variety of lip-smacking delicacies — from intricately grilled prawns to the extremely flavourful buffalo chicken. And then there are places that treat the people who abstain with a certain degree of equality and respect. They do give some thought to their exotic non-alcoholic drinks or mocktails menu.
Mocktails are fascinating — the eclectic combination of ingredients (which range from watermelon, Egyptian oranges and aloe vera to soda, mint and pepper) is worthy of culinary admiration. It is hard to imagine on face value that how can all this be combined to produce something drinkable but they somehow not only mix really well, they are delightfully delectable. If the look and feel of these drinks were not enough to make the teetotalers feel an integral part of the uber-cool 'drinking' community, their names do the rest of the job. They are basically the censored versions of their more socially significant elder cousin, the 'cocktail'. For instance, Mojito becomes Virgin Mojito and Sex on the Beach becomes Cuddles on the Beach.
---
As for the experience, I have also found a set of niche places that make the visits to these brewpubs totally worth it. Live music is what sets them apart.
There is great power in the captivating effect of music and the singers/bands who usually perform at these places are extremely talented folks with a great understanding of what makes the crowd tick. People get so immersed in these performances that the owners have a hard time getting people out of their restaurants.
I love all kinds of music whether it is pop, rock, retro, Bollywood or jazz. But I do have a soft corner for the timeless classics. So when a band performs a high pitched rendition of AR Rahman's Dil Se Re, follows it with the extremely slow Bulleya by Papon and tops it up with a rock version of Nusrat sahab's Tere Jeya Hor Disda, the orgasmic feeling that I get is indescribable. It was so awesome that it compelled me to put up a story on Instagram — to put it in context, it was only the second story that I posted in my 4-year existence on the platform.
Nowhere had everything. The ambience was dark yet peppy, the food was delicious but the live performance by the band Mazhab was what really stood out.
It was a rare anomaly but a working Saturday turned out to be the best day of the week.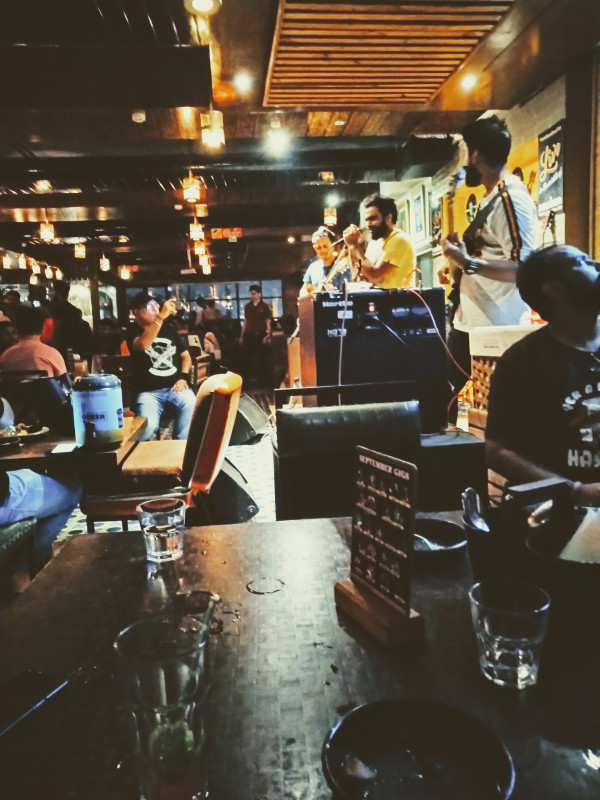 To a wonderful evening!
---